Celebrate Every Success
When you go hard, you save time, and you get more. These are a few of our friends who have redefined time and are experiencing the BURSTClub lifestyle. We don't just celebrate the number on the scale or the size of your jeans. We celebrate every positive lifestyle change you make on your journey towards a healthier, stronger you.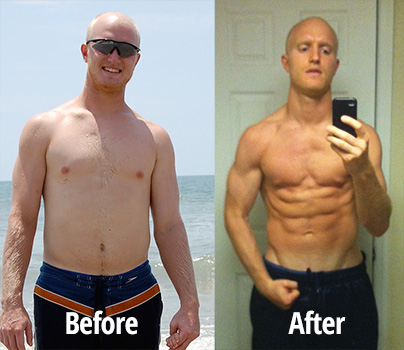 Matt G.
"Before getting started with BURSTClub™ I was a college graduate who took a job in a new city. I was eating poorly and slowly putting on weight. This was extremely frustrating for me as a Former Division I baseball player. It was tough for me to stay in shape in "real life" because I did not have the luxury of our daily required Division I conditioning 4 days a week. My collegiate workouts kept me in good shape but required a ton of time.
Since starting this burst training program, I have lost 15 pounds and have built more lean muscle than ever before and it only takes minutes. I am so thankful to have found something that helped me get back into top shape and burn fat faster, but in far less time!!"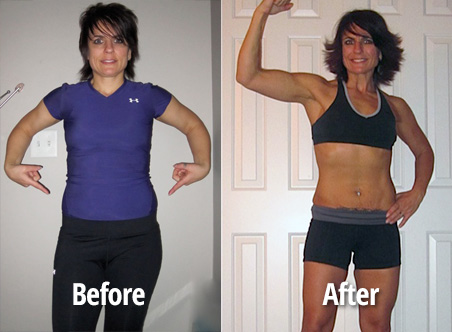 Melissa O.
"I have entertained thoughts like "I am over 40 now. Maybe I shouldn't expect so much of myself." My body was wracked with pain after I exercised and recovery never quite happens. All of my clothes were tight or not fitting as I seemed to pack on extra pounds and just the thought of a swimsuit made me want to cry. A friend noticed that my confidence was shaken and I didn't seem comfortable "in my own skin" and suggested BURSTClub™.
My career as a Health Coach means that people count on me daily to help them reach their personal health and nutrition goals. Yet, I was struggling with confidence and felt like I hadn't attained my own yet. With my transformation journey underway, I determined to grow stronger not older. In less than 10 weeks since starting this program, I've lost 13 pounds and 3.5% body fat. I went from 138 lbs down to 125 lbs, from 21% to 18.5% body fat and lost 2.5 inches in stomach in a little over 2 months. I have tons of energy and no pain!!
More than just the number of pounds or the percentage fat lost is my current and long-term quality of life. At age 42, I do not want to resign myself to the downward deterioration of my body, mobility, and health. I want to keep up with my teenagers and jump out of bed every morning with no pain. I'm attaining my goal of staying young at heart and keeping my body growing stronger. With BURSTClub™, there isn't anything I can't do in the next 40 years of my life!"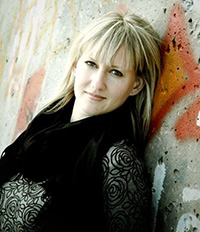 Kimberly O.
"I measured myself after just the third week of BURSTClub™ and I've lost 2 inches around the thighs, 2 around the waist, and 2 around the bust! I feel great!"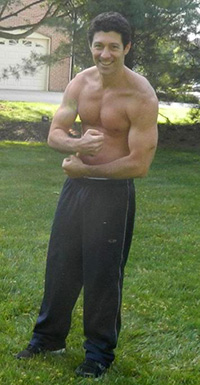 Brad N.
"At the beginning of this year I went on a mission to completely transform my body. I was not happy with the way that I let myself go for so long. I wanted to get back into athletic shape so to speak. I am happy to say that within three months I was able to completely transform my body going from 170 pounds to 145 pounds and also from a size 33 waist to a 29.
I've tried several workouts in the past, including P90X and Insanity, but never got the results that I've achieved through BURSTClub. I think the reason is because of the simplicity of BURSTClub and also the ease of use only being 15 total minutes, whereas the other exercise programs were about an hour and far too daunting of a task.
What really impressed me the most is that I was able to get the results as advertised. I was only burning fat while maintaining muscle mass and didn't even have to lift a weight. I'm 36 years old and I'm in better shape than most 20 year-olds. I still burst train three days a week to maintain my health and see no reason to stop. Thank you Jenni & Nathan for creating such an amazing exercise program."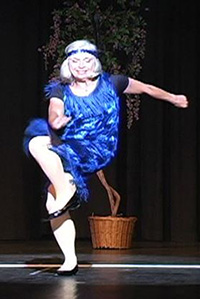 Ginger S.
"BURSTClub™ Transformed has been the best exercise program I have ever done. I am 72 years old and feel like I'm 30 again because of this burst training program! It has given me more energy than P90X and other programs I have used. This burst of energy goes on all day right up until about 10:00 at night. I don't even need to take energizing tea or anything else to help with extra energy like most people my age!
I like the fact that the workouts are intense and short. Because of my BURSTClub™ workouts, I am able to jog 2 miles 5 times a week with our energetic dachshund. These burst training exercises keep me feeling young and I have gained more core strength from incorporating BURSTClub™ into my routine 4 days a week. If I can do it, you can too! Try BURSTClub™ today - you will love the results!!"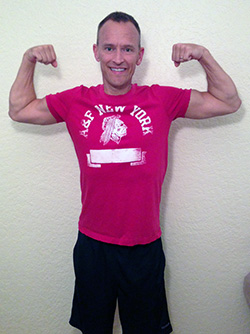 Nolan D
.
"I was diagnosed with Hairy Cell Leukemia in 2009 and lost 25 pounds after undergoing chemotherapy (I weighed 205 before treatments and I'm only 5'7" so I was pretty chunky!). I decided to start eating better and working out regularly. I enjoyed doing P90x as well as Insanity and even got great results, but the time commitment required just wasn't realistic for me as a "long term" fitness routine.
I love to workout but as a full-time minister, I don't have a lot of free time. BURSTClub™ was exactly what I've been looking for! I'm warmed up, worked out, and cooled down in 15 minutes! In July 2012, a routine check-up showed that the Leukemia was back. I decided to check into a natural treatment facility (Hippocrates Health Institute in West Palm Beach, FL) and was able to stick with these burst training workouts the entire 3 weeks I was there because they're easy to do anywhere and I could access them at all hours of the day. I'm now on a 100% raw vegan diet and burst training as many as 6 days a week with BURSTClub™. No one can believe my workouts take 15 minutes!
I get the same (or better) results of those longer workouts I used to do, but in a fraction of the time. I still have a ways to go, but I've never been this lean and I've never felt this good! No more gym memberships, no more long workouts, no more dread. I get up in the morning, I work out, and I'm done! I'm sold on BURSTClub™ and so are many of my friends! "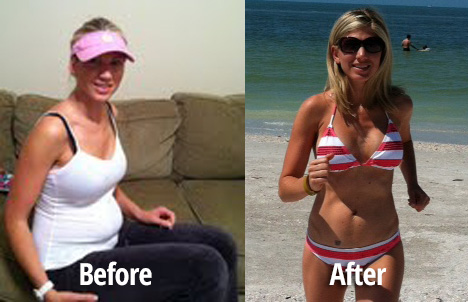 Tanya H.
"I had 3 kids in a little over 3 years and had no time for myself. As a result of this I formed a "Muffin Top" that hung over my jeans at the age of 36. I decided it was time to see if I could lose the belly fat and get really tone…being tone was something I'd never been in my life! I started BURSTClub's burst training program and 2 months later my family was shocked at how I looked in a bikini. I hadn't worn a bikini since I was a little kid! Another huge benefit was that it's convenient and the program is laid out for me so I don't have to figure out what to do. I can't stand going to a gym, and if I ever did go, I never knew what to do once I was there.
My only regret in all of this is that I didn't start sooner!!! I've never had definition or tone in my arms or legs! People ask me all the time how much weight I use to tone my arms. Then I tell I get this in just 3 minutes of work with BURSTClub™ without using a single weight! It's because these burst training workouts help you burn fat wherever you have it in just a few minutes! I also have seen my endurance improve and I've been inspired to train for my first 5K!"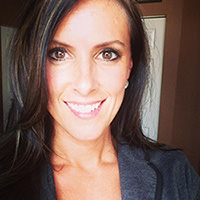 Janelle N.
"I'm a busy Mom of 3 and never had time to workout. That's why I wanted to try BURSTClub. Those 3 minutes of work kick my butt and I love it! It's a quick and effective program and I feel great doing it."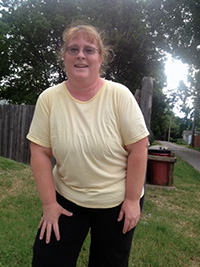 Erika K
"I am not a person who enjoys to exercise at all, but I've discovered I can do BURSTClub's 15 minute workouts! I wasn't really sold while doing the first workout. My own negative "self-talk" and excuse making is what made me think this wasn't going to be a workout for me.
I needed to lose over 100 lbs. and 8 dress sizes to be in the healthy range on those tables and charts. People at my starting weight have trouble putting on their shoes and getting up from a chair, so some exercises just aren't do-able. I am so out of shape I'm unable to do a push-up or do more than 5 jumping jacks. I am not only physically out of shape, but I have thyroid issues, inflammatory arthritis (have had it since I was 13 yrs. old) and knee pain. I watched your warm-up before the first workout, and I love that you always show modifications, so I decided I would try it. I seriously doubted that I could physically do the workout portion though.
After making it through the first workout, there was only one thing that made me ever do a second one. That one thing was a little tiny sentence that Jenni says during the Cool Down... "You did a really good job." I was feeling very discouraged about myself and I might never have tried #2 if I hadn't heard this right at that moment. Thank you so much Nathan and Jenni! That small sentence encouraged me to keep going. I am 1 size smaller and 10 lbs lighter and I am not even to the end of week 3! No matter how badly I bumble through the exercises, Jenni always tell me "good job!" and Nathan never laughs at me!
I love how BURSTClub workouts are only 15 min. The workouts fit in my busy schedule as a teacher, a mother of 3 boys, a wife, a soccer coach, a maid (at least my boys think I am), a chef, a chauffeur, a Sunday school teacher, and a deacon at my church - to name a few of my jobs. I can find 15 minutes in my day and I can do anything for 15 minutes!"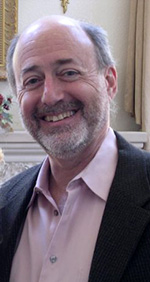 Zal F
""I was using a good Nutritional Weight Management program but taking long walks or using a treadmill wasn't helping me move the scale. I was unable to do even moderate bike rides anymore, my favorite outdoor activity. I knew I needed to get in shape so I committed to following the BurstClub.com program, exactly as presented. When I first began burst training, I couldn't even get through the warm-ups without being totally winded. Within a few months, by sticking with it every week, I started losing inches. Even more important, I felt myself getting my endurance back and I could tell I was replacing fat with muscle. I am able to climb hills again on my bike, and I actually feel like I'm reverse-aging, thanks to being consistent with BurstClub.com workouts!"