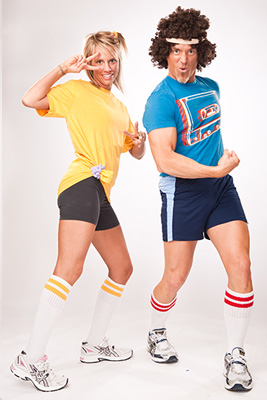 While we try hard not to take ourselves too seriously, we do have a few years of coaching, personal training, public speaking, business development, and Division I experience under our belts. Business partners by day, and professional jugglers by night, we juggle a million (and one) balls to pull off homework, gymnastics, track, making dinners, reading stories, kissing noggins, and gazing into each other's eyes (yes, that still happens even after 4 kids and over a decade of marriage).
Our total motivation for BURSTClub™ was deeply personal and absolutely essential. Our frustration with fad diets and workouts that ended 30-60 days after they started, as well as some health issues, led us to research our options. The unexpected, life-altering loss of our number 3 child further solidified our quest for efficiency. Our son's short time with our family taught us a powerful truth – one minute matters and can have lasting impact.
For years the number 3 represented pain and loss to us. Now it represents life and hope - life lived maximizing the moments and hope that health and fitness don't have to be so all-consuming and complicated. You won't find fads with us…only simple solutions for busy people that work as a lifestyle and redefine time.
Product of Our Own Services
We get asked a lot, "Do you really work out just 3 minutes a day to look like that?" We laugh because we realize how ridiculous it sounds. But the answer is a resounding "Yes!" We don't believe in magic bullets or quick fixes. While doing the right type of exercise to get the ultimate fat burn is necessary, getting healthy and in shape does take time (we can't make the workout any shorter!), is a process, and involves eating healthy. None of us gets a short cut (but "BURSTClubers" get a shorter cut).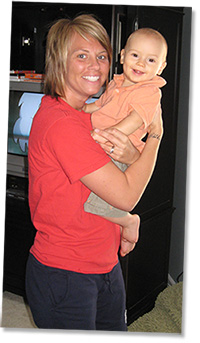 This is me…8 months after my fourth baby, holding my nephew. I felt like I was eating grass and leaves and I was running 10 miles a day. Why wasn't it working this time? I'd always just run and run and eventually I got back in shape. But this time my body hurt…badly. Fibromyalgia, migraines, and pain became the daily norm. Until I discovered my long workouts were producing cortisol overload. Simply put, I was stressed….from the inside out. Not only was this hormone causing devastating effects on my body, it was keeping me from being the lean, mean, fat-burning machine I wanted to be!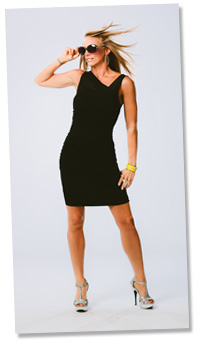 This is me months after I realized I could get more in less time (I seriously think I heard the Hallelujah Chorus sang from the heavens that day!). For a runner and former athlete, you bet your biscuits I was scared to death to stop my rigorous and lengthy routine and…do WHAT? Work out LESS? "You have to be kidding me! This will never work," I thought.
Then I saw my husband get absolutely ripped, right before my eyes and decided I could "get on or get left behind." (I'm not a "get-left-behind" kind of girl, so I got on). The rest is history. I'm pain-free, workout minutes a day, and have kissed obsession good-bye.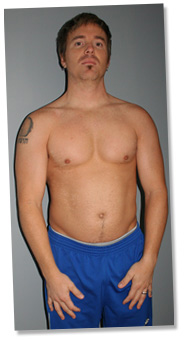 Like many men do, when the kids started to come, so did the "sympathy" pounds (I couldn't let her feel like she was in this alone). Being an athlete, I know the difference between fat and muscle and I knew I'd come to a place where the extra weight was definitely NOT muscle. I spent hours hitting the weights and pounding the pavement. I even ate healthy (mostly). It was a scary day when I had an epiphany that I was 30 and was "that guy" that had begun to refer to the "good ole days" when I was an athlete. That's when I'd had enough.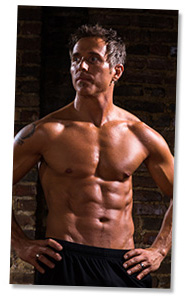 Like a tenacious running back headed for the end zone, I went on a mission to find why my lengthy routine wasn't working and what my alternatives were. After years of researching, taking notes from Olympic athletes, and creating our own human lab experiment, I finally found what works.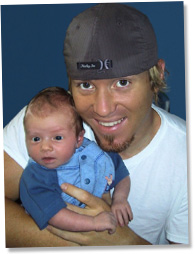 With my son at the backdrop of all Jenni and I do, I'm daily motivated to make the most of every moment. No longer am I tied to hours of exercise a day. I have been given back the gift of time without sacrificing the results.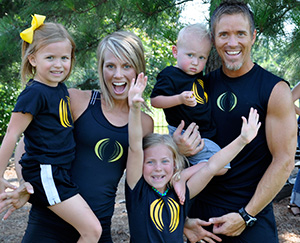 After years of struggling with an eating disorder turned obsessive-compulsive-exercise-disorder, I wanted to show my girls a more balanced and effective (and less destructive, to say the least) way of dealing with food, fitness, and body image. I believe now, that health and fitness are to be a part of our daily life, not consume it. Thus BURSTClub™ is a family affair around our house.
The kids love the crazy moves, funny faces, and loud grunts (all coming from dad, of course). With kids' short attentions spans, we've finally found exercise they will do, and can continue to do…even when they are 90.
~Coaches Nathan & Jenni Oates